17 May

Part-Time Professional Minute Taker – Toronto and GTA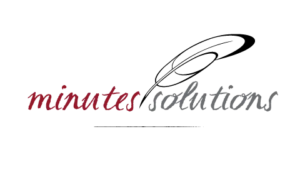 Minutes Solutions Inc. is looking for part-time minute takers in Toronto and surrounding areas.
JOB SUMMARY
TYPE: Freelance / Sub-Contract
WHEN: Daytime and Evening, Minimum 12 Month Commitment
The position requires the candidate to attend board meetings and transcribe the official minutes in accordance with our templates and methodical guidelines. Experience with minute taking and/or transcription/note-taking is considered a strong asset. The ability to respond to dialogue quickly is considered a must – training will be provided.
Please provide a cover letter and resume. Applications without a cover letter will not be considered.
Benefits:
Good supplemental income for freelancers/employed professionals/retirees/students
Flexible schedule
Good support team
Responsibilities and Duties:
Minute taking
Transcription
Business communication
Note taking
Writing
Qualifications and Skills:
Excellent command of the English language
Proficient with MS word
Strong writing and grammar skills
Keen attention to detail and formatting
Punctual and organized
Good communication skills and prompt response time
Required Experience:
Formal minute-taking or note-taking experience, 1 Year
*** Laptop is necessary
*** Ability to commute is necessary
Please do not contact us by phone. Once we review your resume and cover letter we will contact you if you are a good fit. We receive many applications and aim to get back to qualified candidates within 8 business days.
Job Types: Part-time, Contract, Casual, Freelance
Compensation: $20.00 to $35.00 /hour
To apply, please email your resume and 300-400 word cover letter to info@minutessolutions.com
Job Category:
minute taking
Job Type:
Freelance
Part Time